EvBoo can record, print and track unique wristbands for every participant and adult. They are quick to produce, can be designed to meet most requirements and are affordable. The unique barcode, allows tracking and identification to be performed quickly.
These bands have been designed for use in Hospitals, however we recommend the use of the "Splash Bands" which cope with getting wet. Typically these withstand water activities and showering, however Scouts and Guides do still manage to destroy them, so we ensure it is possible to quickly reprint onsite.
Here is an example wristband design from Scoutabout 2017.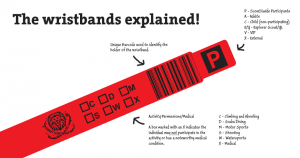 Wristband Scanning in action at Bazzaz 2018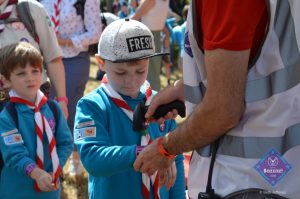 Just look how effective the wristbands look …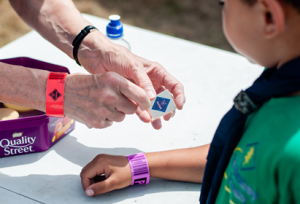 Take a look at the Scoutabout 2017 photo gallery to see just how effective these bands look in action. Whether the participant is making paper aeroplanes, on an abseil tower, cooking dinner, parascending or even headline act on the stage, you'll notice they are all wearing their wristbands!
https://surreyscouts.smugmug.com/Public-Galleries/County-Events/Scoutabout-2017/